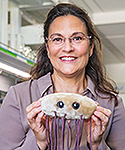 Unit:
Molecular and Cell Biology
Bio:
Dr. Eva de Alba is an Associate Professor of Bioengineering. The de Alba Lab focuses on basic and applied research, learning from our studies on protein structure, dynamics, function and regulation to engineer novel proteins with new biotechnological applications: peptide- and protein-based biologics, hydrogels, proteoliposome assemblies for drug delivery, drug encapsulation. We center our studies in proteins involved in the inflammatory response, cellular death, and lipid degradation utilizing a variety of techniques: spectroscopy (solution NMR, fluorescence) and microscopy (TEM, SEM, confocal fluorescence microscopy-optical tweezers).
Research Program:
Molecular and mechanistic bases of cellular processes essential to life from a biochemical and biophysics perspective.
QSB Emphasis Areas:
Molecular Systems Biology