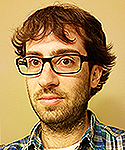 Unit:
Chemistry and Chemical Biology
Bio:
Professor Thompson is a California native, was an undergraduate at UC Berkeley (2007), received his Ph.D. from UCLA (2014), and was a postdoctoral fellow at UCSF before being appointed to the faculty at UC Merced in 2020. He is an Assistant Professor in the Department of Chemistry and Biochemistry.
Research Program:
Molecular motion is critical for protein function, but it remains challenging to study the structural dynamics of complex molecules in atomic detail. My goal is to develop new types of structural and biophysical experiments that transcend the limitations of traditional techniques, allowing us to map structural interconversions at high spatial and temporal resolution.
QSB Emphasis Areas:
Molecular Systems Biology
Quantitative and Theoretical Biology