QSB seeks applications from motivated, high-performing students with all relevant degrees in science or engineering. Students are encouraged to cross over fields and expand the interdisciplinarity of their training through QSB.
All applicants are encouraged to research the exciting diversity of research opportunities offered by QSB and contact multiple faculty and the program with any questions you may have.
Admissions Process: Rotation and Declaration Tracks
Applicants for Fall 2018: The priority application deadline is December 15th, 2017 and the regular application deadline is January 15th, 2018.  We encourage everyone to submit their applications by the priority deadline.
Applicants to the Master's degree can skip directly to the Preparing your application section below.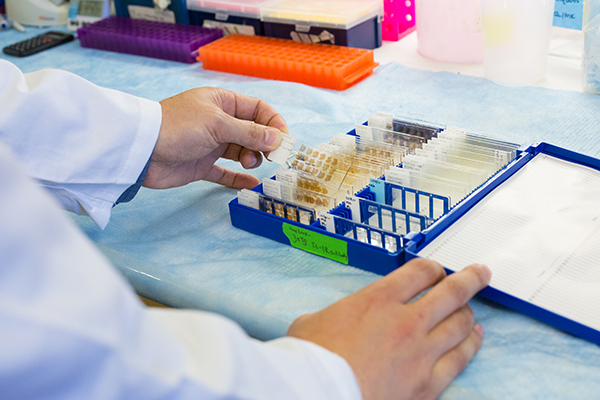 Rotation Track
Most students will apply to QSB via the rotation track. In this case, students will rotate in two to three QSB labs in their first year and then choose, by mutual agreement, an advisor for the rest of their graduate research. Rotations are desirable because they:
contribute to cohesion of research culture in QSB by exposing students to more labs;
provide unique training opportunities to diffuse knowledge and skills between labs;
increase the ultimate fit between students and advisors;
enable cooperative recruitment and training of students across labs;
make it easier for the program to act autonomously and quickly in recruiting applicants; and
provide a check-point after the first year for the evaluation of student fit to the program.
Rotation students will aim to rotate in a minimum of two QSB member labs. Rotations provide a student a flavor of what it is like to be in the host lab. In some cases, students will have specific tasks assigned to them; in other cases they will simply be integrated into lab activities (e.g., attending lab meetings, meetings with advisors, etc.).
The goal of rotations is for all students to find a faculty advisor or co-advisors by the start of their second year in the program. All parties, student and advisor(s), must mutually consent. Rotations are normally 7.5 weeks long; two rotations occur during the first semester and a third rotation may occur at the beginning of the second semester. 
All applicants are advised to apply to QSB via the Rotation Track if they have any uncertainty about which QSB lab they might wish to join. Once the application deadline has passed, you will receive an email from QSB asking you to indicate which track you are applying through, and if you are applying via rotation track, you can list the names of any faculty members whose research is particularly interesting to you.  These faculty represent people you may be interested in doing rotations with, but ultimately your rotation labs will be decided after acceptance into the program.  
Please note: Rotation track applicants cannot change to Declaration Track after submission of application materials. 
Declaration Track
For some applicants and in some fields, applying to work with one advisor or a set of co-advisors directly is preferable. In this case, it is possible for students to apply to QSB with the intention to forgo rotations and directly join one or more QSB faculty member's labs, via the Declaration track.  For some students, this is preferred because:
this is a dominant recruitment model in certain QSB member fields;
this can increase recruitment of more advanced and experienced scholars to QSB; and 
this can incentivize and reward faculty to recruit students to their labs through QSB.
QSB strongly encourages Declaration Track applicants to communicate with prospective PIs prior to submission of their application materials.  After the application deadline has passed, you will receive an email from QSB asking you to indicate which track you are applying through, and if you are applying via declaration track, you will be asked to list the faculty with whom you would like to work. This designation can take one of two forms: 1) if you will be co-advised (by up to three advisors), you will list the unranked names of your prospective co-advisors. In this case, all named faculty must agree to co-advisement of the applicant in order to admit the student; alternatively, you can 2) submit up to two ranked faculty member names, and you will be evaluated for admission by those faculty in the order listed (in addition to the normal QSB program review process undergone by all candidates).
Please note: Declaration track applicants can only change to Rotation Track after submission of application materials within two weeks after the QSB application deadline, with written approval from QSB.
Preparing your application
Interested students should review how to apply for graduate study at the Graduate Division website, introduce themselves by email to at least one QSB faculty member with Curriculum Vitae and cover letter, and apply to QSB. Late or incomplete applications are not guaranteed consideration. All applicants should take the GRE general test (subject test optional). QSB strongly recommends applicants adequately prepare for their GRE examination.
QSB admits students on the total package of their application, with the understanding that an applicant's GPA and GRE scores can impact decision dates and financial guarantees. Most admitted students meet or exceed the following qualifications, though exceptions may apply:
GRE Quantitative 149 / GRE Analytical Writing 4.0 (for domestic students)
QSB admits students as part of a general cohort on the basis of overall fit to the program, including faculty interest. Applications are normally for Fall semester only. Deferrals will be considered on an individual basis, with applications due no later than seven months prior to the beginning of the semester when the student would like to begin graduate studies. 
Financial Support
All doctoral students in good standing are eligible for year-round financial support, including payment of fees and tuition. Teaching and research assistantships normally provide initial funding, which can be supplemented by fellowships, awards, and other forms of financial assistance. A typical 'package' for salary includes a mix of research assistantships, teaching assistantships, and summer fellowships, and is often more than $24,000 per year. All applicants should review Fellowship Opportunities and initiate applications for them when applying to QSB.
Application Fee Waivers
Eligible U.S. citizens or permanent residents may be eligible for an application fee waiver based on demonstrated financial need or if they belong to any of the following research programs: AMGEN Scholar, CAMP, Gates Millennium Scholars, GEM, LSAMP, MARC, MBRS, McNair Scholars Program, MESA, RISE, UC DIGGS, UC- HBCU Initiative, or UC LEADs. More information about fee waivers is available during the application process.
More Information
For more information, send inquiries to jzarate@ucmerced.edu and check out the resources available through the UC Merced Graduate Division.