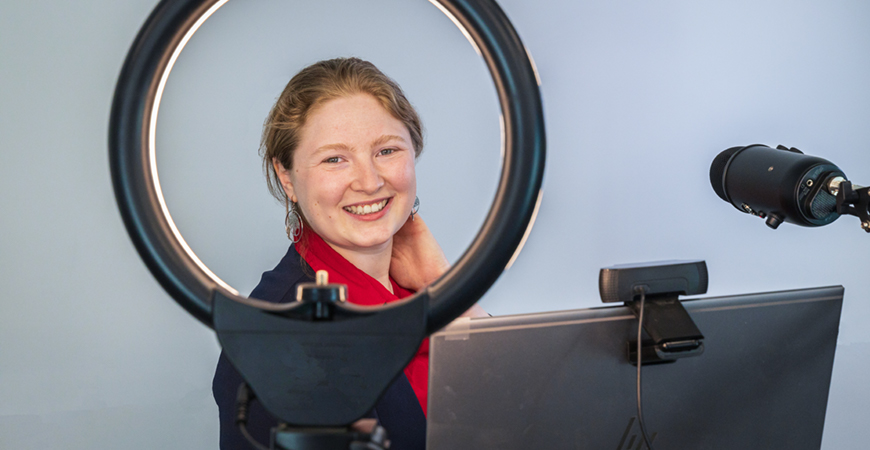 Applied Mathematics graduate student Shayna Bennett will represent UC Merced at the University of California Grad Slam finals on May 7.
For the campus's Grad Slam final round, Bennett presented her dissertation research, "A New Tool to Fight Invasive Species," in just three minutes and earned first place and $5,000. Second place and $2,000 was awarded to Mechanical Engineering student Azhar Vellore, and third place and $1,000 went to Quantitative and Systems Biology student Megha Suswaram.
"We had some intense competition this year and we're thrilled to have Shayna represent UC Merced at the systemwide Grad Slam finals," interim Vice Provost and Graduate Dean Chris Kello said. "From the day she started grad school, she has and continues to represent the Applied Math program and our campus exceedingly well."
Due to the COVID-19 pandemic, the campus held its final round of competition on April 20 with a virtual watch party showing prerecorded videos of the top 10 finalists. Interim Associate Dean of the Graduate Division Asmeret Asefaw Berhe served as emcee for the event and interviewed each finalist after their presentation was broadcast.
"The quality of the research that was presented by the finalists and their delivery was top notch," Berhe said. "As graduate students are working hard to find answers to novel and pressing research questions, we are increasingly seeing the importance of them being able to communicate their work to wide audiences. Grad Slam is an incredible opportunity for our students to distill their research into key messages."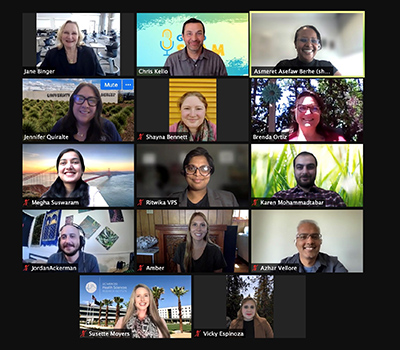 Bennett, a fourth-year Ph.D. student in Professor Shilpa Khatri's lab, studies numerical methods for partial differential equations to understand how landscape features such as rivers, roads and mountains affect the spreading rate and pattern of invasive species.
"We know that invasive species spread differently depending on what they encounter in the landscape," Bennett said. "I am trying to develop the mathematical and the computational tools to model this process and be able to capture what the species would be doing to allow us to understand how the species spreads, thereby controlling invasive species."
Her work could be incredibly important for agriculture and natural resources preservation.
"I am really excited for Shayna, Applied Mathematics and UC Merced," Khatri said. "Shayna is an excellent communicator of scientific and mathematical ideas and this win is an acknowledgment of her skills. Her research project exemplifies what we aim to do as applied mathematicians — develop mathematical and computational tools to solve and answer questions about scientific challenges that society faces today."
Bennett has competed in Grad Slam for three years in a row, placing in the top 10 each time, including being the runner-up in 2020.
"I'm really excited that my growth has finally culminated in the being the campus champion," she said. "I have learned so much about presenting to a general audience and getting the audience excited about what I do."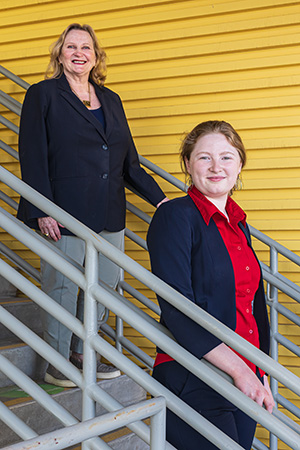 Since 2017, UC Merced Foundation Board Diplomat Jane Binger, Ed.D., has coached UC Merced's top 10 Grad Slam finalists and the eventual campus champions as they prepare for subsequent rounds of the competition. Binger and her husband, Robert Bernstein, M.D., a UC Merced Foundation trustee, have made generous donations to support Grad Slam.
"It's through having the one-on-one interactions with Jane Binger over the last three years that I've come to learn what it means to have a presentation for a general audience and what it takes to get someone excited about something like math," Bennett said.
A panel of eight judges included UC Merced Foundation trustees Kenni Friedman, Lori Rossi Gallo, Eileen Hamilton and Daryl Hatano, as well as Yolanda Bell, assistant principal at Hanford Joint Union High School District, Wendy Huerta, a research coordinator at UCLA, Cori Lucero, Merced regional director of the Central Valley Opportunity Fund, and UC Merced Professor Samuel Traina.
While she wishes the circumstances were different so she could compete against the other campus champions in person, UC Merced's Grad Slam winner said there is an advantage to the virtual environment.
"My family lives in Vermont as well as a lot of my friends that I would love to have come," she said. "Because it's virtual, they can watch it, which they wouldn't ever have been able to do otherwise."
Although she can't compete in Grad Slam again, Bennett said she looks forward to helping more students, especially second- and third-year graduate students, prepare for the competition.
"Communicating with people is important not just in your field but across disciplines and to a general audience," Bennett said. "That is a skill you will only get through practicing and Grad Slam is a fantastic way to practice."
Everyone is invited to watch the UC Grad Slam virtual finals Friday, May 7, and cast a vote for Shayna Bennett for the People's Choice Award.