QSB typically hosts annual retreats.
The Annual QSB Fall Retreat features talks by students and postdocs with plenty of opportunities for informal interactions about research among QSB students and faculty over lunch and coffee. The retreat is held either on campus or in downtown Merced. 
The Annual QSB Beautiful Systems Retreat in early Summer is an overnight retreat at the Yosemite Bug Rustic Mountain resort in Midpines, California. The QSB Beautiful Systems retreat features faculty talks and a student poster session.
Both retreats have awards ceremonies to recognize QSB students and postdocs for their merits and accomplishments.
QSB Retreat (Spring 2022)
Slides from the retreat can be found here. 
QSB Beautiful Systems Retreat (Spring 2014)
In May 2014, over 60 QSB faculty, postdocs, and grad students gathered at the Yosemite Bug for our spring retreat.  Events included talks by faculty members, a poster session for grad students, and lots of fun discussions over delicious breakfast, lunch, and dinner. Over conference break, students went swimming in the Merced River nearby.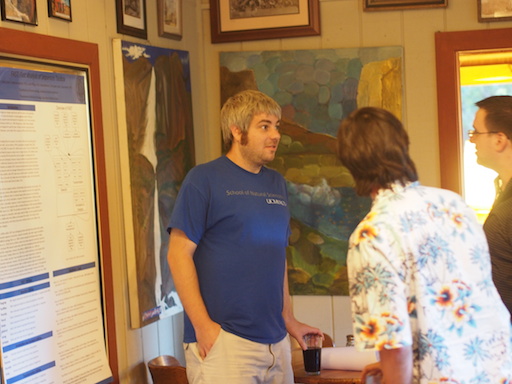 At Beautiful Systems 2014, Joannee Zumkehr (Ph.D. student with Professor Masashi Kitazawa) won the QSB Outstanding Graduate Student Award and Jiun Chiun Chang (PhD student with Professor Gabriela Loots), won QSB Beautiful Systems Retreat Best Poster Award. Congratulations to Joannee and Jiun!
QSB Fall Retreat 2014
November 6, 2014, at Gateway Gardens in Downtown Merced.
Program
10:15-11 a.m. —QSB Student/Postdoc Poster Session I with Coffee.
noon -1:30 p.m. — Lunch
2:30-3:15 p.m. — QSB Student/Postdoc Poster Session II with Coffee.
3:15-3:35 p.m. — QSB Fall Retreat Awards Ceremony and Farewell
Congratulations to the 2014 Fall Retreat Award Recipients!
QSB Outstanding Student Oral Presentation Award — Dan Landayan
QSB Outstanding Student Poster Presentation Award — Dana Burow
QSB Outstanding Postdoc Presentation Award — Kaitlin Maguire
QSB Outstanding Research Innovation Award — Devon Davidian

QSB Outstanding Presentation for an Interdisciplinary Audience Award — Anna Ankirskaia