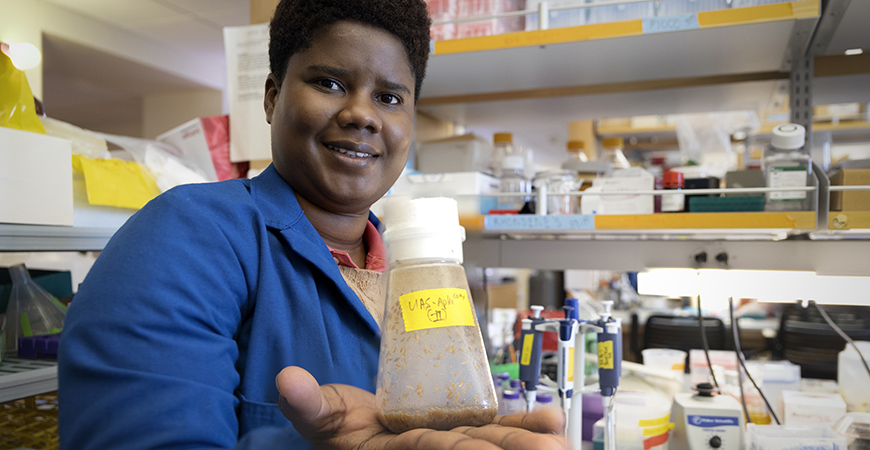 Rhondene Wint is one of 10 exemplary graduate students to be featured in the March 17 special issue of Diverse: Issues In Higher Education (Diverse) based on "standout scholarship thus far and their current trajectory toward a very promising future in academia and beyond," according to the magazine's press release.
Wint, a Quantitative and Systems Biology Ph.D. student who hails from the coastal town of Ocho Rios, Jamaica, is part of the second cohort of Diverse Rising Graduate Scholars.
"It's a very big honor. I appreciate the recognition," she said. "It means a lot for my family and my wider community. I'm not just the first in my family (to get a degree and go on to pursue a Ph.D.) but the first in my neighborhood. It is unheard of where I'm from."
Wint's co-advisor Professor Michael Cleary nominated her for the award citing her passion for science, research competences and commitment to mentoring among the numerous reasons why she deserves this honor.
"Rhondene is very serious about training people that come from communities where careers in academia might seem unobtainable," Cleary said. "Her personal journey serves as an inspirational example."
From a young age, Wint said she dreamed of studying medicine. She participated in a science fair in high school and said she enjoyed the process but didn't see science and research as a viable option.
"I didn't know any scientists," she said. "I only read about them in books."
Despite overcoming many challenges, including a speech impediment, Wint went on to earn her bachelor's degree in biological sciences from Northern Caribbean University in Jamaica and got hooked on research.
"It was the research that drew me here," said Wint, who joined UC Merced in 2017 to study with Cleary and Professor David Ardell. "I wanted to do interdisciplinary research."
At UC Merced, she studies how whole genes influence brain development; her main research intersects neurobiology and transfer RNA (tRNA).
"Working with tRNAs is notoriously difficult and Rhondene has diligently established novel methods that have yielded exciting data," Cleary said. "Rhondene entered our Quantitative and Systems Biology graduate program with an untraditional background, having worked hard to obtain a strong education despite numerous obstacles in her native Jamaica. She arrived well-versed in biology and chemistry and had an impressive set of computer skills, largely acquired through self-teaching."
I have no doubt that Rhondene will continue to have a successful career as a researcher, educator and mentor. I'm very excited to see what she achieves and consider myself lucky to have had the opportunity to work with her.
In summer 2018, Wint was selected for the U.S. Department of Energy (DOE) Joint Genome Institute (JGI)-UC Merced internship program. The JGI is a national user facility at Lawrence Berkeley National Laboratory. There she used cutting-edge computational approaches to reveal novel properties of tRNA evolution in fungi. Based on that research, she is first author on a recent publication in Molecular Biology and Evolution.
In addition to her research prowess, Wint has mentored several undergraduate students in the lab, all from underrepresented backgrounds, and taught several courses.
In 2020, Wint was awarded the competitive Beyond the M.D. Living Learning Community fellowship. As the instructor on record for the one-unit course, she designed a mentorship program for incoming undergraduate students majoring in STEM fields by recruiting guest speakers from diverse professions to share their experiences with the students.
Like Wint, most of the students were the first in their families to pursue a college degree.
"I remember being scared when I first started at the university. It was a whole new environment, and it was overwhelming," she said. "I shared ways to build a successful roadmap for themselves and helped them build a sense of belonging."
As one of Diverse's Rising Graduate Scholars, Wint joins students from the University of Michigan; University of Kentucky; Howard University; Florida International University; Indiana University, Bloomington; University of Toledo; University of South Carolina; Northern Arizona University and Duke University.
"I have no doubt that Rhondene will continue to have a successful career as a researcher, educator and mentor," Cleary said. "I'm very excited to see what she achieves and consider myself lucky to have had the opportunity to work with her."