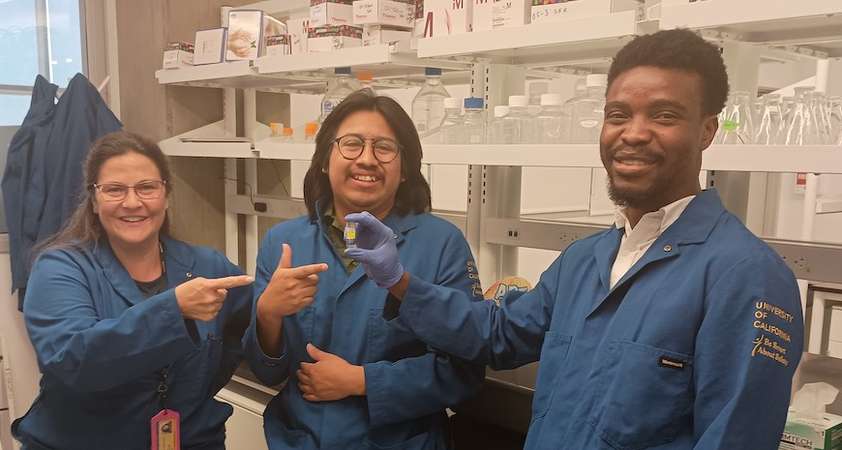 Bioengineering Professor Eva de Alba has been awarded a National Institutes of Health (NIH) grant to study a potential process to reduce inflammation. The $405,375 grant will fund de Alba's project through 2025. David Gravano, Technical Director of UC Merced Stem Cell Instrumentation Foundry, is a collaborator on the project.
Reducing inflammation can vastly improve health outcomes for people with life-threatening conditions.
Inflammation is caused by numerous diseases, de Alba said in her project summary. Those include cancer, diabetes and cardiovascular disorders. Inflammation also can result from what's called a cytokine storm - an immune reaction in which protein cells are released into the blood too quickly - in COVID-19 infections.
Inflammasomes are large cytosolic multiprotein complexes that assemble in response to detection of infection - or stress-associated stimuli, according to the NIH. Their formation leads to plasma membrane rupture and concomitant cell death, thus resulting in the release of proinflammatory cytokines and inflammasome particles to the extracellular environment. Nearby cells internalize the extracellular inflammasomes, perpetuating and amplifying the inflammatory response.
The de Alba lab has produced hydrogels designed to reduce inflammation. The funded project has two aims, de Alba said in the abstract: identifying the hydrogelation factors leading to optimum binding of inflammasome particles in cell-free systems and determining the anti-inflammatory efficiency of the hydrogels in the presence of activated innate immune cells.
She wrote, "We expect to develop a hydrogel technology of broad applicability to reduce inflammation in the absence of drug loading by targeting the inflammasome, which is implicated in many inflammatory diseases."
The project aims to broadly reduce inflammation by using hydrogel technology to capture extracellular inflammasomes. This technology then could be used to create implantable, injectable and sprayable hydrogels for expanded biomedical applications.